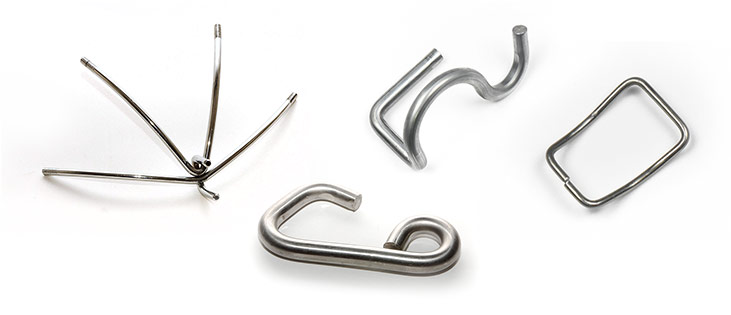 Le savoir-faire historique de l'entreprise Chabanne est basé sur une expérience de plus de 60 ans dans la production d'articles en fil métallique en sous-traitance. La société Chabanne s'appuie sur un stock important et très diversifié de matières premières correspondant à la grande variété de pièces que nous sommes en mesure de fabriquer. Nous maitrisons en effet la production de pièces en fil allant de 0.5 à 20mm de diamètre, dans différentes nuances ( fil en acier doux, fil en acier ressort, fil en inox, fil en aluminium, fil galvanisé, fil cuivré ou encore fil en laiton ) et dans différentes sections ( fil rond, fil aplati, fil demi-rond… ). Nous réalisons également les traitements de surface adaptés à l'usage souhaité pour les pièces. Les pièces peuvent mesurer de quelques millimètres à plusieurs mètres de longueur développée.
We are experts in the production of metal parts thanks to the machines available. Our state-of-the-art CNC bending machine means we can produce all types of metal wire items (hooks, springs, clips, pins, …). Using our multi-slide machines we can manufacture large batches of metal wire items, metal strip parts and flat springs.
Examples of metal wire usage
The demand for metal items is vast. For example Chabanne Industry produces connecting rods and also chair frames. We have contacts in the horticulture sector for our mulching fasteners and trellis . Other activities using metal wire items include street furniture, construction, household appliances, automobile, etc. Metal wire items can be end-products (for example fasteners and trellis) but also components for end-products.