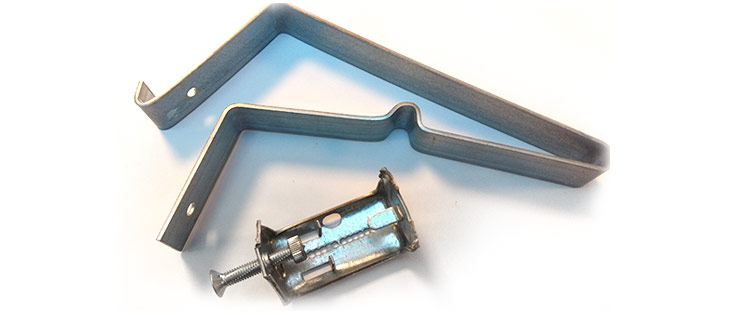 What is a stainless steel strip?
A stainless steel strip is weather resistant and has many uses: for antennas, cables, industrial strapping … Our super-resistant parts are made of either standard stainless steel or spring steel. They can be produced in large production runs on our multi-slide machines. The maximum thickness is 3 mm but their length can vary between just a few millimetres to 500 mm. Feel free to contact us for more details and benefit from our expertise and support throughout your project. Their edges can be sheared, deburred or untouched.
What is a pièce slit-strip part?
These steel strips are used as a raw material for the manufacture of components for many sectors of activity. These parts can take various forms, with a range of coatings: from the leaf spring to the spring clip, flat springs, fixing lugs, metal frames, brackets, cable clamps, electronic and electrical terminals, connectors and more.
Production of our slit-strip parts
Slit-strip parts are mass-produced on our Bihler or Latour multi-slide machines or cutting presses. For this, we design and manufacture within our factory, thanks to our internal methods department, developing specific tools for each part. This multi-slide machine technology offers a host of advantages:
Simplifying the manufacture of folded parts
Manufacture of automatically assembled parts
Controlling tooling costs
Example applications of our slit strips
Chabanne produces these parts for a very diverse clientele, ranging from VSBs to the largest groups. We rely on over 60 years of know-how in the manufacture of wire and strip products.
Thanks to our integrated design office and industrialisation department, Chabanne Industrie supports its customers in the design of sheet-metal parts – from design to prototyping to production. This collaboration allows us to develop parts and solutions that can be easily industrialised to meet our clients' expectations. These strip pieces can be found in many industries.
For example, we manufacture heating-element clips in electrical appliances, metal connectors for electronic components, retaining clips for the automotive sector, handle brackets for household appliances, connecting rods for the DIY sector, retaining lugs for street furniture, safety parts for sports equipment, fastening clips for packaging, and a wide range of building parts.